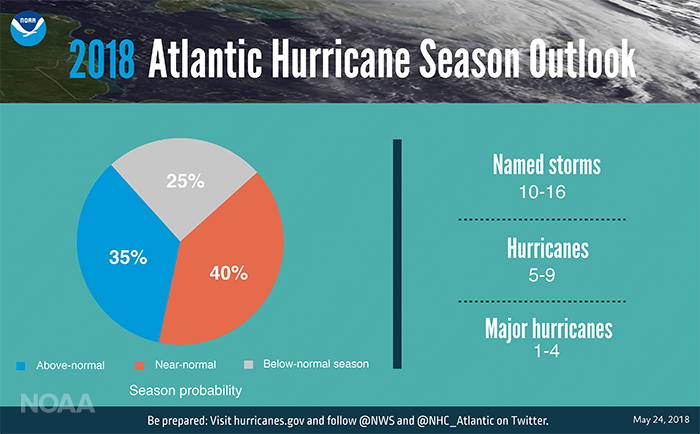 Lessons We're Bringing into the 2018 Hurricane Season
Forecasters are expecting 5-9 hurricanes this hurricane season, 1-4 major ones, but they say it would be rare for the U.S. Virgin Islands and Puerto Rico to experience a direct hit for a second year in a row. We hope they are right, but we must remember that we also thought it would be statistically unlikely, highly improbable, for the U.S. Virgin Islands to take a direct hit from a Category 5 hurricane twice in one month – but that happened and it left us devastated as a territory. In fact, we still haven't fully recovered. Blue roofs still dominate the islands and the infrastructure is still being repaired. Many public school children still don't have schools and patients still don't have necessary medical services. So we don't have the luxury of dismissing a potentially rare event as impossible – because we know it is possible. In fact, one of the only constant's related to weather lately is the likelihood of extremely rare events happening.
And while meteorologists don't expect 2018 to be as severe as 2017 was, it still is expected to be "near or above normal," according to the National Oceanic and Atmospheric Administration. One of the reasons 2017 was so bad was because of favorable water temperatures and decreased wind shear from a weakened La Nina. This time around, forecasters are expecting an El Nino to develop later in the season, which would cause unfavorable hurricane conditions. If an El Nino does not develop, this season could be just as bad, or worse, than last year. So, fingers crossed for an El Nino.
The 2017 hurricane season was one for the history books and we're hoping to never experience that much destruction again – and hoping still to never experience the one-two punch that Irma and Maria gave – crippling one island after the next and hampering our ability to help our neighbors. Last year was the most expensive hurricane season on record, causing more than $200 billion in damage from Harvey, Irma and Maria combined. Maria alone caused the second largest blackout in the history of the earth. Add to that a recent study by Harvard University's T.H. Chan School of Public Health states that as many as 4,645 people died in Puerto Rico as a result of Maria. While we don't have such a study related to the Virgin Islands, we do know that 51 of the more than 1,000 people evacuated for medical treatment following the storms, have died, and at least 5 died during the storms.
We learned many lessons during the 2017 hurricane season. As the Virgin Islands Daily News recently pointed out, one of those is that curfews don't work, or they cause more harm than good, hindering the public's ability to get essential supplies and delaying the ability of small businesses to bounce back. We need to have a better plan in place for assisting medical evacuees, particularly a record keeping process so they can be checked in on. Even before that, we learned that getting hit with a Cat 5 hurricane doesn't remove you from the path of the next Cat 5 developing in the Caribbean – so we can never let our guard down during hurricane season. And, even a storm not making a direct hit can bring flooding and damage, as we saw with Jose in between Irma and Maria. And a big one, one we have learned before but perhaps need a reminder occasionally – isolated island communities end up waiting longer for less help so we need to be prepared and ready to help our neighbors while also demanding better and more equitable treatment.
All we can do now is be prepared. And God forbid anything does happen, Cane Bay Cares will be here to help.