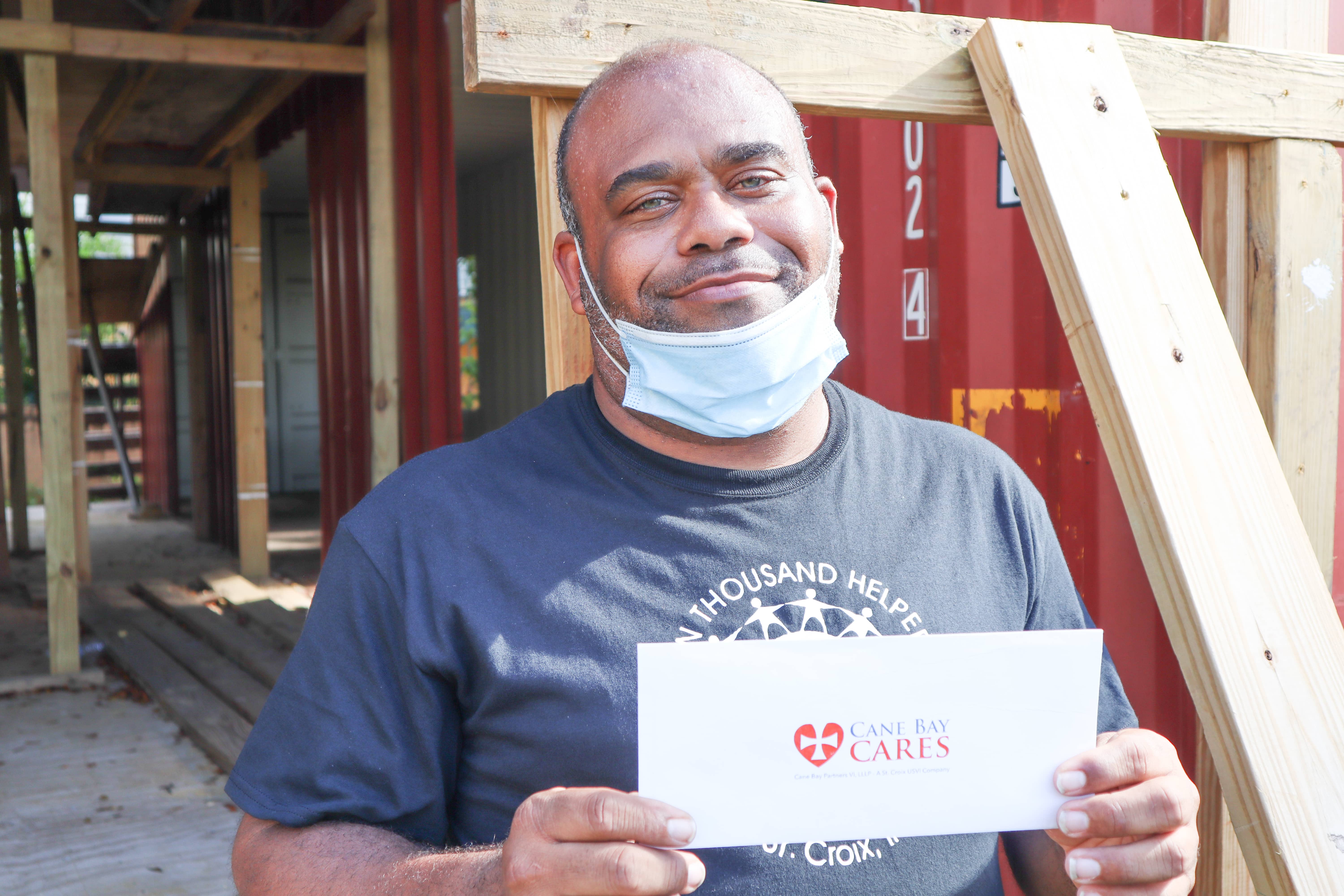 Cane Bay Cares Donates to Ten Thousand Helpers and Liberty Place
May 13, 2021 – Cane Bay Cares, philanthropic arm of Cane Bay Partners, is proud to announce support for mental health initiatives in the Virgin Islands through partnerships with Ten Thousand Helpers of St. Croix Inc. and Liberty Place.
Both nonprofits received donations this month for projects to house the homeless, mentally ill, and people struggling with substance abuse.
"One of the reasons that May is recognized as Mental Health Month is to remind us that mental health is something everyone should care about. I am proud that Cane Bay Cares could support two organizations that really care," Cares Manager Neisha Christopher-Christian said. "We remain committed to the Virgin Islands community."
Ten Thousand Helpers Inc. will use the funds for ongoing renovations at the Rainbow House Men's Shelter, its transitional facility that was recently burglarized and damaged. Executive Director Malik Stridiron said he expects to house about 18 residents when renovations are done in about 3 months. Renovations will include revamping a trailer unit with individual rooms to house residents who may have been exposed to COVID-19 and need to be quarantined.
Stridiron said that funding could also be used to buy supplies for outreach to the homeless living on the streets. But the goal is housing, he said.
"Housing for us is more important," Stridiron said. "Treating you on the street and not being able to bring you in to someplace where we're able to give you the after care is a waste of time…so our goal is to get the buildings back up as soon as possible."
Liberty Place has similar goals.
The Cares donation to Liberty Place will help fund the organization's Community First program. Community First is a partnership between Liberty Place and the Virgin Islands Housing Finance Authority to renovate the former Villa Morales restaurant into housing for the homeless and mentally ill.
Leslie Raymer, Liberty Place director of finance and development, and Scott Hensley, Liberty Place Program Director, both worked at Frederiksted Health Care in previous roles. Raymer said that while working there, they saw the need for permanent housing and full-time care for patients battling chronic mental illness and homelessness.
"We realized that what we didn't have was someplace to put people with chronic mental illness where we could have comprehensive, wraparound care," Raymer said. "We'd see great progress in people…hoping to see them well again in a week or two weeks, and it just can't happen when you're living on the street."
The new Community First facility will include 25 tiny homes for emergency shelter, transitional housing, and permanent housing for people who need homes but don't meet traditional requirements for public housing. There are also plans to construct an emergency shelter for women and a medical clinic.
Raymer said they are expecting to house 56 residents by the time renovations are over.
Both organizations welcome additional sponsors and contributions from the community at large. To learn more about supporting Ten Thousand Helpers, contact Stridiron at (340) 422-2828 or tenthousandhelpersofstcroixinc@gmail.com. To find out how to support Liberty Place, contact Raymer at (340) 244-7015 or leslie@ujimaresources.com.